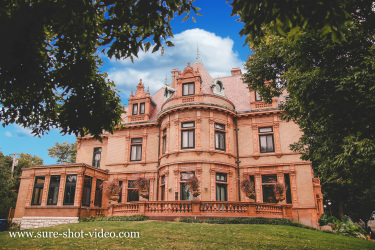 The Magic Chef Mansion, constructed in 1908, is an amazing and unique house that is considered one of
St. Louis' old-world estate. Surrounded by 2 acres of the city's landmark Compton Heights Reservoir Square neighborhood adjacent to Compton Heights, this beautiful Manor is an oasis of sophisticated elegance. The Magic Chef Mansion was built for Charles Stockstrom, the founder of the Quick Meal Stove Company, which was later renamed Magic Chef. When Sarabeth told me her wedding was going to be at this beautiful space, I knew this wedding was going to be classy and full of surprises. We arrived at noon, just as the gates were opening, and walked up the long driveway to the mansion. It had detailed architecture that made the mansion one-of-a-kind. As we walked inside, we noticed the wooden staircase with large stained glass windows featuring the Stockstrom family coat of arms. The 27-foot wide main hall is paneled in oak extending nearly eight feet high. We peaked in on Sarabeth and she had just started to get her hair done. The room she was in was small and cramped, so we snuck her into Library to finally get the dress on. The room had oak paneling, a beamed ceiling, stained glass and oak bookcases, and a massive wood burning fireplace with oak mantel. She looked incredible with her pearls and layers of lace. It was almost time for the ceremony to begin. Jonathan was outside waiting for his beautiful bride. The ceremony took place outside the mansion, right on the front steps. Their ceremony was very unique and personal. They recited their own vows. They had a wine ceremony as their unity ceremony, in which they both drank out of a special double cup at the same time. Their officiant wore a flower crown that she removed and turned into a wrap for the couple's wrists for a binding ceremony. The ceremony was short and sweet. They were pronounced, kissed and off they went. They were able to say hello to all their guests in the receiving line. Next was picture time for family. Sarabeth and Jonathan were announced by the DJ as they walked out onto the side terrace where everyone was having cocktails. The best man gave his toast and the couple had their first dance right there on the terrace. It was beautiful having all their friends and family around them as they danced. We spent the rest of the day getting photos with Sarabeth and Jonathan around the mansion. We took many fun and lovely pictures and had a really great time with them. It was very enjoyable spending time with Sarabeth and Jonathan. They are such a fun and loving couple and are perfect for each other.
Best wishes to you two.
We wish you a lifetime of happiness!